Welcome to Wonderwool Wales
Wonderwool Wales is the premier Wool & Natural Fibre Festival in Wales and is held annually on the last weekend in April at the Royal Welsh Showground, Builth Wells, Powys.
First held in 2006 to promote the market for Welsh wool and add value to product for small wool & fibre producers in Wales, the festival celebrates the green credentials of Welsh wool and its versatility as a material for creative crafts, designer clothes, home furnishings and more. Wonderwool Wales has grown year on year. It covers everything from the start to the end of the creative process – from exhibits of sheep, through raw and hand dyed fibres, yarn for knitting & crochet, embellishments, equipment, dyes and books to superb examples of finished textile art, craft, clothing and home furnishings.
The Festival was awarded The Best Event in the Mid Wales Tourism Awards 2019/2020. Wonderwool Wales has also been awarded Highly Commended several years running in the Let's Knit British Knitting & Crochet Awards.
First and last chance to see wall hanging maps at Wonderwool Wales
A special exhibition of map wall hangings, depicting seven different places around the UK, will be one of the features of this year's Wonderwool Wales, the award-winning show that celebrates all that's great about Welsh wool and natural fibres.
It will be the first and last chance to see all the wall hangings, which celebrate the combined creativity of more than 180 knitters, together in one place
Full details can be found on the wall hangings page of this website
Exhibitor Applications Now Available
Exhibitor Application forms for Wonderwool Wales 2024 are now available in our Exhibitors Area.
2024 Tickets
Tickets for WonderWool Wales 2024 will be available soon.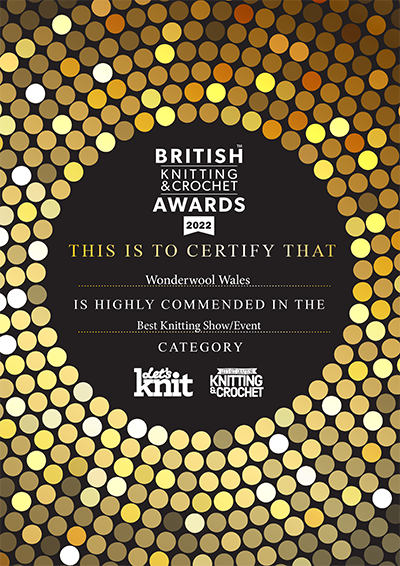 I think you do a fantastic job of organising & running this show. As an exhibitor it runs flawlessly. Love the amount of space for stalls & customers alike, plenty of room to move & browse

Very good food carts outside & good tea & cakes inside

Food & seating brilliant & ladies toilets great

Love the spacious feel of the show

Such a lovely vibe, really helpful crew, everyone happy, great venue & facilities & happy shoppers